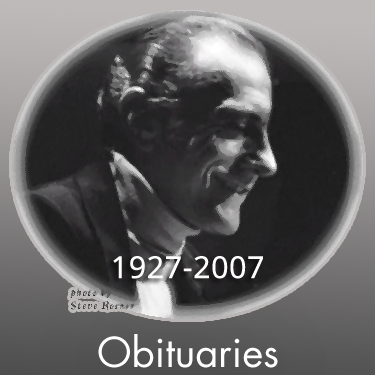 Project Description
The New York Times
Sal Mosca, 80, a Jazz Pianist and Teacher, Dies
By COREY KILGANNON
Published: August 6, 2007
Sal Mosca, a jazz pianist whose career began playing with giants like Charlie Parker, Miles Davis, Billie Holiday and Sarah Vaughan only to take himself out of the public eye in later life, died on July 28 in White Plains. He was 80.
The cause was complications from emphysema, said his daughter, Kathryn Mosca.
Mr. Mosca was one of the main protégés of Lennie Tristano, the jazz pianist known for his rigorous approach to improvisation and his cult following among students and fans. A lifelong resident of Mount Vernon, Mr. Mosca grew up emulating the stride of Fats Waller, the swing of Teddy Wilson and the technical and improvisatory mastery of Art Tatum. By the time he was a teenager he was backing up famous players in Manhattan nightclubs.
In the 1950s he played on several watershed early cool-jazz recordings, like "Ezz-thetic," with Miles Davis, and "Subconscious-Lee," with the saxophonist Lee Konitz, another Tristano student with whom Mr. Mosca played in clubs like Birdland.
Mr. Tristano later wrote in the liner notes for Mr. Mosca's 1977 album "Mosca Music" that "of all the great people in jazz since the 1940s, Sal Mosca is one of the greatest."
Mr. Mosca adopted Mr. Tristano's curriculum of marathon practice sessions and studying the solos of a small pantheon of jazz improvisers. He stuck to a select repertory of standard songs, usually playing only extreme abstractions of the original melodies or substituting complex melodic lines over a song's original harmonic structure.
Mr. Mosca played on the bill with Lenny Bruce at the Den in Manhattan in the 1950s and led a quartet along with the saxophonist Warne Marsh at the Village Vanguard in 1981.
But after that he largely avoided performing and recording, seeing it as a threat to the integrity of his intense practicing, playing and teaching, he said in interviews with The New York Times in recent years. He lived in a commercial building he owned in downtown Mount Vernon, where he could teach up to 60 students a week and practice late into the night.
After a series of operations he grew depressed, he said, and in 1997 he stopped playing altogether for four years, refusing to leave home or touch his Steinway concert grand, even as recordings of his earlier performances were being released. Eventually he returned to teaching, jam sessions and public performances. In January he played five solo concerts in Europe and taught several workshops.
In addition to his daughter, his survivors include his sons Michael and Steven and seven grandchildren.
Mr. Mosca credited his seclusion with giving deeper meaning to his music.
"I was only away from music physically," he explained. "Even while I was away from the piano, I was always playing in my mind, going over chord changes."
The Los Angeles Times
Sal Mosca, 80, jazz pianist excelled in improvisations
By Jocelyn Y. Stewart, Los Angeles Times | August 12, 2007
LOS ANGELES — Sal Mosca — a jazz pianist known for his improvisational skills and a deep dedication to his craft, one that led him to build a musical life centered on practicing and teaching, rather than performing — died July 28 at a hospital in White Plains, N.Y., from complications of emphysema. He was 80.
At the start of his career, Mr. Mosca headlined with saxophonists Lee Konitz and Warne Marsh, playing at every major club along the Eastern seaboard, according to a biography posted on Mr. Mosca's Website. With Konitz, he recorded "Subconscious-Lee" in 1949 and played on the recording of "Ezz-Thetic" in 1951, alongside Miles Davis, Stan Getz, and Bill Bauer. In 1957 he recorded "Very Cool" and in 1959 made "Sal Mosca & Peter Ind at the Den."
Mr. Mosca was trained in bop piano and classical music; he was a student of legendary pianist Lennie Tristano and an admirer of Art Tatum. To his students and fans Mr. Mosca epitomized a commitment to excellence and purity in art. But purity came with a price. The widespread popularity that might have accompanied someone with Mr. Mosca's skills and credentials was elusive; the pianist said he "never wanted to be caught in the web of commercial success."
So he turned down gigs and opportunities and focused on teaching and practicing at his home studio in Mt. Vernon, N.Y. When he did record and give concerts, he did so on his own terms, said his daughter Kathryn Mosca of Scarsdale, N.Y. Those performances left critics marveling at his powers to improvise: He played jazz standards with extraordinary freedom while observing strict musical parameters, critics said.
Writing in The New York Times in 2004, Corey Kilgannon observed that Mr. Mosca's "flights of fancy to far-flung musical orbits are all the while precisely linked to the song form they are improvised on."
"His playing exhibits the well-constructed inventions of Bach, the giddy galloping gaiety of Fats Waller, and the elliptical runs and stunning technique of Art Tatum. It is also stamped with the introspective intensity and harmonic rhythmic complexity of his mentor, Mr. Tristano," Kilgannon wrote.
In his playing Mr. Mosca combined a respect for the composer, , a nod to renditions offered by other artists, and his own feeling, he said. "I play a song differently every time, with a variation on them — melody or different chords, different tempos — so it always puts a new, little something into it," he told Zan Stewart in the Newark Star-Ledger in 2005.
As a private instructor Mr. Mosca emphasized basics, often taking students, even those who had been playing for years, to the beginning, Kathryn Mosca said.
Born Salvatore Joseph Mosca in Mt. Vernon on April 27, 1927, the pianist grew up listening to the family's player piano. He began taking lessons and by age 15 was teaching others to play.
He often insisted that he had no innate talent or special gift, that his ability was the fruit of long hours of practice and devotion. "He would basically say anybody could do this if they studied and practiced the way I did," his daughter said. "But nobody else really believed that."
In 1953 Mr. Mosca married Stella DiGregorio and before divorcing the couple had three children. In addition to his daughter Kathryn, Mr. Mosca leaves two sons, Michael of Eastchester, N.Y., and Stephen of Jacksonville, Fla., and seven grandchildren.
The Guardian
Sal Mosca
Pianist, teacher and graduate of an austere school of jazz
Richard Williams
Thursday August 9, 2007
The Guardian
The chances of finding the jazz pianist Sal Mosca, who has died from the effects of emphysema at the age of 80, playing in a New York club some night in his seven-decade professional career must have been infinitesimal, given the long absences because of his preference for private practice over public performance. There he was, however, one night in November 1981, co-leading a quartet at the Village Vanguard on Seventh Avenue with the tenor saxophonist Warne Marsh, another fugitive figure and fellow graduate of the informal school of jazz named after the blind pianist and teacher Lennie Tristano.
The music they created that night, like everything they ever played, bore Tristano's hallmark: an air of detachment that derived from the intensity of their involvement in their source material. Mosca was among the most gifted of those acolytes who, even in unbuttoned surroundings, continued to devote themselves to an austere investigation of the inner workings of chord sequences borrowed from standard Broadway tunes, rather than go for the cheap emotional outreach.
Mosca, born to first-generation Italian immigrants in Mount Vernon, New York State, was fascinated in boyhood with the sounds from the household pianola and was soon attracted to the music of such early jazz pianists as James P Johnson and Fats Waller. At 12 he began formal lessons at the keyboard; three years later he played in local nightclubs, a moustache disguising his age.
After Mosca's two years of wartime service in an army band ended in 1946, the GI bill enabled him to enrol at the New York College of Music, where he studied classical composition by day while listening to such giants as Teddy Wilson and Art Tatum in the clubs of 52nd Street at night. Soon he met Tristano, a controversial but magnetic figure who, over the next eight years of study, shaped his destiny.
His fellow pupils included Marsh and the alto saxophonist Lee Konitz, and it was with these two distinctive young musicians that Mosca made his first recordings in 1949, the powerful influence of Tristano on his own playing apparent on pieces such as Marshmallow and Tautology. By 1957, on a Konitz album titled Very Cool, his real originality emerged in a series of short solos full of startlingly asymmetrical phrase-shapes, mixing close-voiced chordal passages with agile single-note lines that seemed to double back on themselves.
Konitz and Marsh remained his most frequent musical companions and a 1971 recording with Konitz, titled Spirits, contains several duets that demonstrate how adventurously the pianist had developed away from his model. He also made a few poorly distributed solo records, including A Concert, documenting a 1979 recital in New York and displaying the full extent of his technical resource and emotional rigour.
Like his mentor, Mosca spent most of his career shunning the public gaze. Instead he concentrated on practising and on passing on his knowledge to younger musicians at his home in Mount Vernon, where he adapted Tristano's specialised teaching methods.
He is survived by a daughter, two sons, and many pupils. Among these in the mid-1950s was a 13-year-old, Bob Gaudio, from New Jersey. For the first few weeks of tuition, Gaudio was required to do nothing but learn to scat-sing Louis Armstrong solos. Then he was invited to play classical pieces on a piano with weighted keys, to help develop speed and dexterity. Three years later Gaudio went on to join three other Italian-Americans, including the lead singer Frankie Valli, in a doo-wop group called the Four Seasons, for whom he co-wrote a string of million-selling hits. Then he gave Mosca the most unexpected, and incongruous, credit of his career on the cover of the Four Seasons' 1969 post-Sgt Pepper concept album, Genuine Imitation Life Gazette. "Salvatore Mosca: Private instructions," it said.
One pupil had not forgotten. Nor did anyone lucky enough to have witnessed his artistry one random night in Greenwich Village, more than a quarter of a century ago.
· Salvatore Joseph Mosca, pianist and teacher, born April 27 1927; died July 28 2007
All About Jazz
Published: October 16, 2007
By Fradley Garner
Sal Mosca, 80, pianist and teacher.
Mt. Vernon, NY, April 27, 1927—July 28, 2007.
Salvatore J. (Sal) Mosca, a fiercely independent modern jazz pianist and teacher whose virtuosity invoked Art Tatum, was one of the more original artists in jazz.
In poor health for years, he died July 28 at Westchester County Hospitals, NY, of emphysema complications. He was 80.
Mosca, a protégé of Lenny Tristano, worked and recorded with the blind master's alto saxophonist Lee Konitz in 1949-1965, and tenor saxophonist Warne Marsh in the 1970s.
"He was closest in style to Lennie, but managed to express his own personality within that style," Ira Gitler, coauthor of The Biographical Encyclopedia of Jazz, said. Gitler said Mosca may have achieved even more as a teacher.
The pianist later led his own combos, ending a 32-session recording career with a trio album, Thing-Ah-Majig (Zinnia 118 CD). All five tracks were standard tunes poorly recorded in the leader's home studio.
"But wait until you hear what Mosca does with "I'll Remember April" and "I Can't Get Started," a Jazz Times reviewer wrote in 2006. "Tempo and melody and changes are relative matters" to the pianist, who "breaks these songs so far down, in abstracted block chords, tangential fragments and confrontational tremolos, that it is startling when they resolve back into themselves." The Sal Mosca Trio performed in February 2005 at William Paterson University, in Wayne.
Lester Young and Art Tatum "made masterworks" out of standard tunes, Mosca told Zan Stewart, the Star-Ledger jazz critic. "That's what I try to do."
Allegro
Sent to Allegro:
My father, Sal Mosca, passed away on July 28. He was beyond category and beyond label.
An early fan of stride piano, Sal studied and practiced until his music was informed by a wide range of styles and approaches. His single defining concept was improvisation.
For Sal and the pantheon of acknowledged musical greats of his generation, improvisation became the definition of jazz, a genre which itself suffers from a surfeit of often misleading and confusing labels.
Sal has been described as a bop, post-bop, and cool jazz artist. None thoroughly apply.
Sal is unique in that once he settled on improvisation as his guide, he let his personality drive his music regardless of consequence. To know Sal personally one can understand his music. To know Sal's music one can begin to understand the man.
Sal could be simultaneously complex and simple, serious and playful, social and secluded. Once he decided that what he felt as an individual was the most precious thing he owned, he never feared presenting that individuality in the purest form he was able to muster. A technical master of his instrument and the elements of musical composition, Sal could express himself without technical limitations and so all of his music is organic and undiluted by worldly considerations.
As such, Sal may be remembered most by what his music does not contain. There are no artifacts or commercial motives. There are no concessions to popular style. There are no underlying messages and no hidden agenda. There is no compromise.
Sal's music is not for dilettantes. Only those seeking incredible music for its own sake and those steeped in the technical background of musical creation can and will appreciate what Sal has left behind. Others may best be left to pursue music correctly defined by mere labels.
Stephen Mosca
Requiem
Sal Mosca, jazz pianist, father, brother, teacher, and friend, passed away Saturday, July 28, 2007, in White Plains, New York. He was 80 years old.
Sal enjoyed a nearly seven decade career of improvisational jazz piano that touched the lives of many people. Perhaps more so than his music, Sal's values for living affected everyone who knew him. Those who knew Sal only from appreciation of his music surely were able to glean the depth of his commitment to purity and the integrity he brought to everything he produced.
Sal was, and will remain, a teacher in every sense of the word. The philosophy he articulated and lived was one of simple and complete dedication to the spirit of creation undiluted by external influence. Sal rejected commercialism, populism, consumerism, and the faddish. In their place, he maintained and nurtured the values of thrift, independence, freedom, self improvement and self exploration. Most of all, Sal believed in generosity. Sal gave everything away: his thoughts, his time, his values, his music.
While Sal may have been viewed by some as iconoclastic, in reality he was a rock of tradition that, by remaining true to quality, threatened the evolving status quo. By this, Sal demonstrated his courage in the face of enormous forces urging compromise and conformity.
Sal is survived by his three children and seven grandchildren. He is also survived by the thousands of souls whose lives he touched with his words and his music.
Gratefully, Sal was able to record a body of incredible music during his lifetime that will live on as ethereal vibrations that will inspire, soothe, and amaze us for the years and generations to come. Life is fragile; art perseveres.
"Music is your own experience, your own thoughts, your wisdom. If you don't live it, it won't come out of your horn. They teach you there's a boundary line to music. But, man, there's no boundary line to art."
Charlie Parker
"Your Requiem is finished. It has made me sad, for I sang it with all my heart."
Franz Shubert